The Mineral Extractor has a sealed cavity that is filled with liquid silicone to lubricate the O-ring seals on the riser tube. The main body of the Mineral Extractor carries a five (5) year guarantee against cracking.
For larger commercial units with a fixed distributor, there is a 4-inch offset extension adapter that will allow you to leave the distributor with riser in place, and use the Mineral Extractor with the same ease as on the smaller 2.5 inch residential tanks.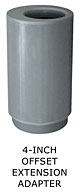 This kit will work on all 2.5 inch and 4 inch tank threads. In most cases, the Mineral Extractor will save you its cost every time you use it (not to mention your back). A must for every shop and service truck.