APPLICATIONS:
ProBond CI is ideally suited for use in numerous applications including Waste Treatment, Chemical Processing, and Resource Recovery.
NOTE: Click on graphs below to enlarge.
PRESSURE DROP — The graph above shows the expected pressure loss per foot of bed depth as a function of flow rate at various temperatures.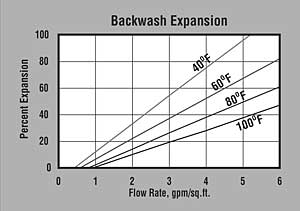 BACKWASH — After each cycle the resin bed should be backwashed at a rate that expands the bed 50 to 75 percent. This will remove any foreign matter and reclassify the bed.
OPERATING CAPACITY
The relative affinity of ProBond CI for heavy metals in near neutral solutions is in accordance with the following sequence.
H+1>> Cu+2> V+2>> (UO2)+2> Pb+2> Ni+2> Zn+2> Co+2> Cd+2> Fe+2> Be+2> Mn+2> Mg+2> Ca+2> Sr+2> Ba+2>> Na+1
High concentrations of chlorides or sulfates, or the presence of chelating or complexing agents can alter this sequence and likewise will affect the operating capacity.
High Chloride Solutions
Cu+2> Ni+2> Co+2> Zn+2> Cd+2> Fe+2
High Sulfate Solutions
Cu+2> Ni+2> Cd+2> Zn+2> Co+2> Fe+2
ProBond CI has similar chelating characteristics to EDTA and NTA. Therefore it is less effective when these agents are present.
For each particular metal cation there is a critical pH at which ProBond CI has optimum selectivity. For most metals this pH is approximately 4.0. As the pH decreases, so does the selectivity. At a pH of approximately 1.5, ProBond CI loses its ability to remove most metals. The minimum pH values for removal of some common metal ions are as follows:
| | |
| --- | --- |
| Manganese | 4.0 |
| Iron | 3.0 |
| Zinc, Cobalt | 2.7 |
| Nickel | 2.5 |
| Copper | 1.5 |
As the pH increases, selectivity also decreases. At a pH of 9.0 selectivity for most metals is about 10% of the selectivity at optimum pH. Above a pH of 9.0 many metals form anionic complexes and are no longer present in a form that can be removed by ProBond CI.
ProBond CI, like other chelating resins, has very slow kinetics. Optimum capacity is obtained when the service flow rate is limited to 0.5 to 1.0 gpm/cu.ft. Where extremely low leakage of metals is required, two columns of ProBond CI should be operated in series. The primary column can be fully exhausted, allowing the polishing column to protect against leakage. After regeneration, the order of the columns is reversed with the freshly regenerated column used as the polisher.